The Book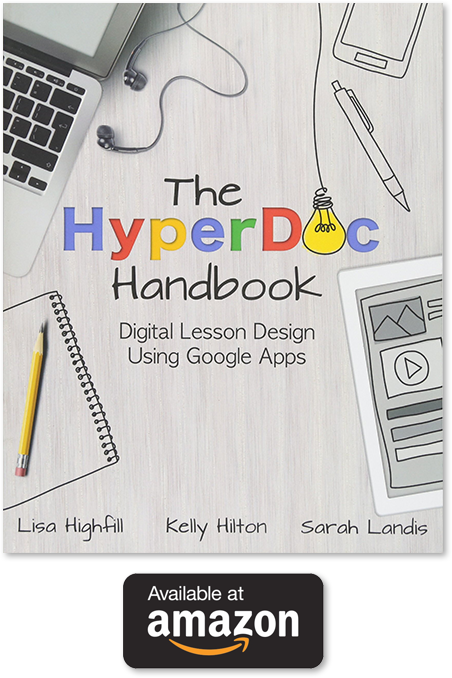 It's time to think differently about lesson design. Technology gives students immediate access to information, the ability to connect beyond the classroom, and a myriad of opportunities for collaboration and creativity. But do your daily lessons reflect this shift in instruction?

HyperDocs are digital lesson plans that are designed by teachers and given to students. They provide access for students to all content and learning in one organized digital space. HyperDocs shift instruction by giving students the content to explore before direct instruction, and by asking students to apply their learning using the 4 C's: critical thinking, communication, collaboration, and creativity. We can't always do things the way we've always done them and with this book, we encourage you to consider, "What is it that I can do now that I couldn't do before?"

The HyperDoc Handbook is a go-to for all K-12 educators looking to transform their teaching into blended learning environments. It is a practical reference guide you will refer to again and again that strikes a perfect balance between pedagogy and how-to tips. After reading this handbook, educators will feel equipped to design their own HyperDocs using Google Apps and the endless web tools available online. This book will be your guide to:
Explore the pedagogy behind digital lesson design
Follow step-by-step directions on how to create a HyperDoc
Reflect and revise digital lessons using a checklist to "hack" your own HyperDocs
Select tech tools best suited for lessons
Connect and share with other educators
Copy and customize sample HyperDocs to use in your own classroom
Improve collaboration and instruction between all education stakeholders, including students, teachers, administrators, instructional coaches, professional developers, and families with the ideas shared in this book. After reading The HyperDoc Handbook you will be connected with the HyperDoc community and inspired to create and share with other HyperDoc'ers on Twitter at @TsGiveTs, search Facebook groups for "HyperDocs", and discover lessons at TeachersGiveTeachers.net.

For bulk orders contact info@elevatebooksedu.com
Download the free Study Guide
Here